Adoption Circle - January Newsletter
Posted on February 06, 2023 by Adoption Circle Staff
---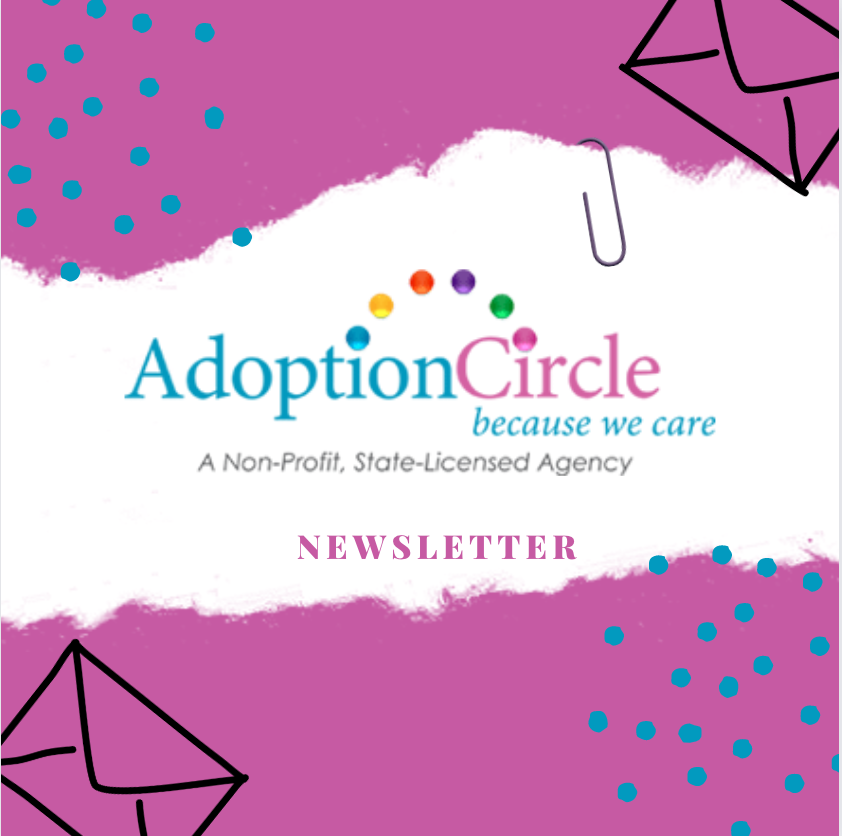 Well January is behind us, and it was just as cold and snowy as expected. Spring can't come soon enough! 😊 We are happy to enter into a new year and honored to continue to serve the adoption community. Thirty-one years and counting. We are excited to share our first adoptive placement of the year. Our "New Year" baby. 😊. We would say big brother and big sister are a little excited about their baby sister. Baby "V" is certainly loved.
In January, The Governor signed House Bill 45 into law. Reporter Andrew Tobias with Cleveland.com was kind enough to allow us to share the article he wrote which explains the new adoption grants. A portion of Andrew's article is being shared below. You can log onto
https://www.cleveland.com/news/2023/01/new-ohio-law-overhauls-expands-state-adoption-grants.html to read his complete article.
The adoption grants will replace the tax credit. As always, we recommend you consult with an accountant for any tax questions.
New Ohio law overhauls, expands state adoption grants
A new Ohio law overhauls and significantly expands existing state incentives for adoptive families, a change that bill sponsors hope will help encourage families to consider adoption as an option while cutting down on the thousands of children in the state foster care system.
Last Monday, Gov. Mike DeWine signed House Bill 45, which includes language that creates three tiers of new adoption grants. They are:
A $10,000 grant to families that adopt a child after Jan. 1, 2023, replacing an existing $10,000 state adoption tax credit.
A $15,000 grant to families that adopt a child after Jan. 1, 2023, after fostering the child as a certified caregiver.
A $20,000 grant to families that adopt a child with special needs after Jan. 1, 2023. The new law specifies what conditions qualify as "special needs," and includes developmental disabilities, "any mental or psychological disorder" or a medical condition that causes "distress, pain, dysfunction, or social problems" and requires ongoing medical care.
The bill also creates a new $2,500 grant to pay for college expenses for Ohioans who were adopted after Jan. 1, 2023.
The adoption grants aren't available to step-parent adoptions. For the special-needs grant, the diagnosis must be performed by a qualified medical professional before an adoption is finalized.
Adoption advocates mostly praised the changes, which have particular significance for the foster-care system. But because they passed as a last-minute bill amendment during December's lame-duck legislative session, foregoing the typical process of holding public committee hearings, many advocates involved in adoption in Ohio didn't know about the changes until they were passed, and didn't have the chance to offer feedback while they were being developed. Some still are trying to learn more about the program.
Sen. Theresa Gavarone, a Bowling Green Republican who helped push for the new adoption grants, said they're meant to make adoption easier and more financially feasible.
Private adoptions, particularly when infants are involved, can cost tens of thousands of dollars in legal expenses and other fees. Adoptions of older children, including those in the state foster-care network, have their own unique challenges that can include long-term behavioral health concerns and other medical issues.
"We're trying to make money available so that families have accessibility, so they're able to adopt a child and to make it feasible," said Gavarone, an attorney who has worked with children's issues during her legal career. "If money and the financial concerns are a barrier to adopting a child, we want to break down that barrier."
Bill Teets, a spokesman for the Ohio Department of Job and Family Services, said agency officials are excited to implement the new grant program. They must do so before April, when the law goes into effect.
But 2,133 people claimed the adoption tax credit in 2020, according to state tax records. The bill sets aside $15 million to fund the program, estimated to be enough to fund it, while granting the governor's office to request more funding if needed.
"Gov. DeWine has challenged us to help the 3,400 children awaiting adoption find permanent homes," Teets said. "This grant will be a tremendous help to those Ohioans who've chosen to adopt, and will make the decision to adopt easier for those who have been considering adoption but may be concerned about cost."
Mike Gonidakis, Ohio Right to Life's executive director, said the organization came up with the idea for the new adoption grants over the summer while brainstorming its strategy for the lame-duck session. And it developed the specifics by working with state Senate staff, in consultation with adoption attorneys, he said.
Gonidakis said the group plans to push for continued reforms to the adoption system, including trying to focus on streamlining the complex legal side of the process at some point in the near future.
"This is the tip of the iceberg of stuff we can work on," Gonidakis said.
Unlike costly private adoptions, Britton said foster-to-adopt situations are "practically free" for parents, meaning the $15,000 tier of the grant functionally is a completely new incentive for these types of adoptions.
Children's services officials believe the $15,000 grant will create more interest in foster-to-adopt caregivers, who often are less well-off than those who seek private infant adoptions.
There are typically more than 3,000 children in the state's foster-care network eligible to be adopted, according to the Ohio Department of Job and Family Services. The number has grown from 3,106 in 2018 to more than 3,400 for each of the last two years.
Betsie Norris, the executive director of Adoption Network Cleveland, which provides resources for adoptive parents, adoptees and lobbies for policy changes in Columbus, also praised the new foster-care grant.
"People adopting a child out of foster care, they might not have the expenses to adopt," Norris said. "But they certainly are going to have expenses meeting that child's needs, helping a new child or sibling group coming into their family. I think that's really great that that's going to happen."
Even the $10,000 grant for standard adoptions is a significant overhaul, despite the dollar amount being equal to the $10,000 state adoption tax credit that it will replace.
That's because the old state tax credit was nonrefundable and served as a reimbursement for incurred adoption expenses. That meant to qualify for the full amount, someone would need to not only document $10,000 in qualifying expenses, but also incur $10,000 in state income tax liability — which takes multiple years for households making less than around $300,000 a year — within a five-year period. Ninety-six percent of households who claimed the old state adoption credit in 2020 made less than $300,000, according to state tax data, while more than half made less than $100,000.
The new grant will be a single, up-front payment and comes with an accompanying state income tax deduction.
"It's a significant change to help families adopt and find children to start their families," said Gavarone, the Republican state senator.
From the desk of the Birth Parents Director, Kim.
Kim's virtual book club on January 30, 2023 was a success. American Baby, A Mother, A Child and the Secret History of Adoption by Gabrielle Glaser was the first book discussed. The first club meeting was fun and informative. It was interesting to hear others' perspectives and experiences. We all agreed as a group that openness can be so important for an adoptee, birth families and adoptive parents. The next book club meeting will be March 27th at 7pm. Two books will be discussed! They are both very easy reads. Through Adopted Eyes: A Collection of Memoirs From Adoptees and Through Adopted Hearts: A collection of Memoirs From Birth and Adoptive Parents. We hope you can join the next book club meeting. Please email Kim@adoptioncircle.org for more details, or to obtain the video link information for the meeting.
As always we are excited to connect with you. If you don't follow us on our social media accounts (FaceBook, Instagram, Twitter), please do so. We post several times throughout the month! 😊
---