Adoption Circle - March Newsletter
Posted on March 31, 2022 by Adoption Circle Staff
---
As March ends, we are definitely looking forward to those April showers to bring May flowers and warmer temperatures! March was a month that brought two national recognitions near and dear to Adoption Circle. We were happy to recognize and celebrate both National Women's Month and National Social Worker Month.
National Women's Month recognizes the contributions of women. Adoption Circle would not be an agency if it weren't for women. We honor the exceptional women we work with daily from expectant mothers, adoptive mothers, birthmothers and women we work with in our profession. But just as importantly, our agency would not exist if not for five remarkable women. Adoption Circle was licensed in 1991 and the original founders were five women: Nancy Burley, Susan Brewer, Lynn Simon, Becky Blair and Lucie Blumenthal. Becky and Lynn served as attorneys when Adoption Circle was founded and Nancy, Susan and Lucie were social workers. Five women who made such an impact on the adoption community and founded the agency that has operated in Ohio for over 30 years. Nancy and Lucie continue to serve on the board and Susan continues to work at the agency on a daily basis. As we close out National Women's Month, we didn't want to miss the opportunity to recognize and thank the five amazing women who founded Adoption Circle.

As mentioned, we also recognize and celebrate National Social Worker's Month. Social Work can
require long hours, be emotionally draining, low pay, but also so rewarding. Social Workers strive to
improve people's quality of life and to be advocates for them. At Adoption Circle we recognize all of our
staff who are Social Workers. We know our agency would not exist if not for these selfless workers. You
can follow this link to learn more about our staff.
We would also like to take time to highlight one of Social Workers. Kelsie worked as an intern at Adoption Circle and we were happy to have her rejoin our staff in 2019. Kelsie Jo began her Adoption Circle journey as an intern in 2008 and quickly fell in love with adoption. Kelsie was hired in 2008 to assist working with birthparents. Kelsie then graduated from The Ohio State University with her Master's Degree in Social Work in 2009. Despite moving closer to family in 2010 and leaving the Adoption Circle family, the passion and desire for adoption stayed with her. In 2019, paths crossed again and an opportunity arose where Kelsie was able to join as a contract worker. Kelsie is dually licensed as an LISW in Ohio and LCSW in Indiana. Kelsie enjoys working with the adoption triad and looks forward to helping each family move through their adoption journey. Full time, Kelsie works for Parkview Hospital in Fort Wayne on a Geriatric Psychiatric Impatient Unit. Kelsie resides in New Haven, Indiana and lives with her boyfriend, two children and her two dogs.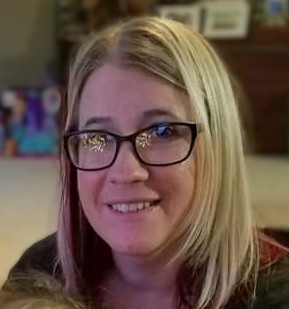 From the desk of the Birth Mother Director, Kim. On Your Feet Foundation was founded 20 years ago and recognizes the importance of post -placement care for birthparents. For any birthparent in need of post placement care please go to this link to obtain more information and to learn more about the Virtual Birthmother Retreat on April 23, 2022.
Lastly, since April 15 th is tax day, we wanted to share a link that provides more information about the Federal Adoption Tax Credit. As always, we suggest you talk to an accountant if you have any questions about the tax credit.
Looking forward to April and hopes it starts to look more like Spring. Please look for our next newsletter the end of April. If you don't follow us on our social media accounts (FaceBook, Instagram,
Twitter), please do so. We post several times throughout the month!
---